Have you found yourself thinking about replacing your patio doors with a new aluminium bifold door ahead of the warmer, summer months? You're not alone – all our customers have!
Here at Aim Windows, we utilise the UK's most responsible aluminium-sourcing system companies such as Smarts to produce secure, thermally sound aluminium doors that keep you safe and sound.
But what are the key elements that make the Smarts aluminium bifolding doors so superior? We hear you ask. Let us share the top key elements with you.
Low in weight, high in strength
Although more expensive in cost in comparison to other materials such as uPVC, aluminium is a very light metal, weighing 2.699 grams per cubic centimetres, however its weight to strength ratio is superior and can last up to 40 years. It's the perfect choice for security-conscious homeowners when replacing or selecting new windows or doors for their home.
Most advanced environmentally friendly facility of its kind in the UK
Regardless of whether we buy an aluminium bifold door or even an aluminium window, we understand that peace of mind (and kindness to the environment) is key.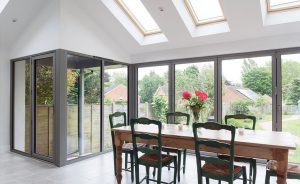 Smarts is also fully committed to reducing their impact and protecting the environment. Something we are very passionate about doing too. Have you heard of the Green Home Scheme? We wrote about it recently.
They also help us to offer secure, thermally sound aluminium windows to please in every aspect. Providing impressive U-values of up to 1.2w/m2k, aluminium bifold doors will give you notable energy savings.
Smarts aluminium bifold doors meet modern low maintenance requirements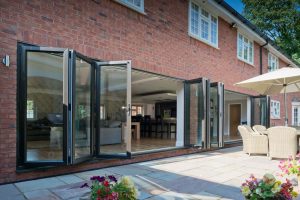 Here at Aim Windows, we understand that our customers are busy people and like things to be made simple. Who doesn't?! Which is why our aluminium bifold doors are the perfect solution. We powder coat all our frames which means they are completely scratch-resistant. One swipe of the dust cloth and they will be looking as good as new.
More aesthetically pleasing
Are the frames of your current patio big, bulky and bold? Are you getting a bit tired of them blocking the view to your garden or outdoor space? With our slim, strong, and secure aluminium bifold doors that is something you will not have to worry about!
We would suggest opting for anthracite grey bifold doors for modern interiors, or perhaps you could opt for authentic woodgrain effects for a heritage look and feel. There is lots of options available.
Fashionable and efficient aluminium bifold doors in East London
Regardless of whether you are opting for an aluminium door, or new aluminium windows, our gorgeous bifold doors are available in premium, ultra-slim aluminium frames, which will result in a contemporary stylish finish guaranteed to give your new aluminium bifold doors the "wow-factor".
We hope that provides you with some of the key reasons as to why Smarts aluminium bifold doors are so superior, however, if you'd like any further professional expertise, then contact us today and we'll be happy to help.
Read our related blogs:
4 top tips for choosing a new front door for your North East London home