White Gold provided an irreverent, quirky, and, quite frankly, filthy insight into the seedy underbelly of the double-glazing industry set in 1980s Britain. Following cocky glazing salesman Vincent Swan and his unscrupulous team at fictitious 'Cachet Windows', it soon became clear this bunch of reprobates were prepared to do anything to get the sale, even if it meant throwing honesty out the window!
Although around 80% of homes in England have some form of double glazing installed, there are still many common misconceptions surrounding the glazing industry. Let's debunk a few of them now for you.

Double glazing salesmen are like vampires
Imaginatively referring to how salesmen need to be invited inside, White Gold's first episode title couldn't be further from the truth these days. Building trust with potential customers is mainly done through online directories of vetted and recommended tradespeople like Checkatrade.com and word of mouth, rather than the intrusive cold-calling practices of Swan, Fitzpatrick, and Lavender.
At Aim Windows we strive to deliver a no-pressure sales approach and, for absolute consistency, we do not – under any circumstances – employ subcontractors. Our fitters are exactly that, our fitters.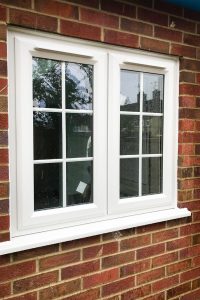 uPVC windows will be around long after the human race is extinct
This is just one of Fitzpatrick's creative tales to get the sale! Seen as a negative these days, it is now proven that modern uPVC is no longer bad for the environment. Considered as a green building material, with a lifespan of 35 years or more, uPVC can be fully recycled and reused for production. And no, President Reagan didn't have a fallout shelter made entirely of uPVC windows either!
All double-glazed windows have the same energy ratings
Although UK Building Regulations require windows to have an energy rating of C or better, or a minimum U-value of 1.6W/m2K, not all double glazing achieves this. For absolute peace of mind, all our window products are 'A' rated as standard.
Visit our home improvement showroom in Poplar to find out more.
Replacing timber windows with new double glazing will ruin the building
To this day, there are still homeowners out there that think replacing their old timber windows with new double glazing will ruin the building's appearance. But thanks to advancements in uPVC manufacturing, there are several quality timber alternatives that have even been approved in some of London's strictest conservation areas. Secondary glazing can also be considered to enjoy historic homes to their fullest potential.
Aluminium windows are not as efficient as uPVC windows
In the past, aluminium windows were seen as thermally inefficient compared to multi-chambered uPVC frames. But ever since modern aluminium windows introduced innovative thermal break technology to their assembly, aluminium windows can easily exceed the energy ratings of uPVC windows. Placed between the inner and outer frame, polyamide thermal breaks form a continuous barrier to prevent conductive thermal energy loss, thus making aluminium windows and doors much more efficient. Our aluminium windows and doors utilise state-of-the-art thermal break technology, delivering enviable U-values as low as 0.9 w⁄m2k.
Professional installers of quality home improvements in East London
Committed to quality and dedicated to breaking down the misconceptions of the glazing industry, speak to one of our experts today and see how the stigma of "double glazing" has evolved through Aim Windows.
Read our related blogs:
Should I replace all my windows at once?
What is the ordering process for a new door or windows with us?
What are the main differences between REHAU & Eurocell uPVC windows?