When it comes to updating East London homes or commercial premises, there are a variety of door styles to choose from to match your unique requirements. Practical side-hinged French doors are often chosen to enhance timeless character, innovative bifold doors are preferred in modern developments, and sleek sliding doors look great in any setting.
But what about slide and pivot glass doors? What are they and how can you and your family benefit by installing them?… Allow us to explain.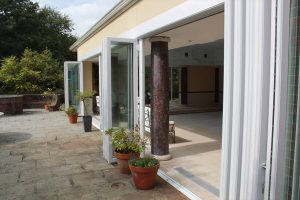 What is a pivot sliding door?
Hingeless slide and pivot glass doors have reimagined the conventional bifold system by utilising individual sashes that operate independently from one another.
Allowing for multiple panels, choose from standard coloured frames for quicker installation or limitless RAL colour options for beautiful bespoke slide & pivot door designs.
What are the advantages of pivot doors?
Slide & pivot doors save space
A distinct drawback with conventional bifold doors is the amount of space they need to open. Although they often take up only half the space of a normal-sized door, bifolds can be a real issue for bijou East London houses and apartments low on space. This is where slide & pivot doors come into their own. Thanks to their unique pivot action, they need considerably less room to open and close.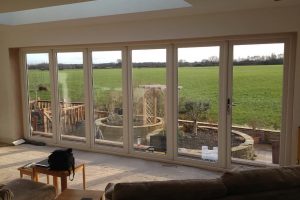 Pivot doors create a unique design statement
Slide & pivot doors can't be beaten when it comes to letting optimum air and light inside. Left open, the overall impression of space is amplified, and when closed, tasteful, unobtrusive sightlines are a given. Our narrow 3″ frame pivot doors can also be designed to look like a wall, heightening minimalist aesthetics and accessibility further. Concealed hinges add to the sophisticated, minimalist ambiance that these doors create with ease.
Are pivot doors energy efficient?
Our superb slide & pivot door products utilise 'next generation' thermal technology. This unique PVC and aluminium hybrid utilises the latest thermal break technology for maximum comfort and energy savings, keeping heat loss low and satisfaction high. The unique interlocking panel system is not only secure but also ensures superior weather ratings.
How safe are pivot doors?
Very safe! Our slide & pivot doors feature innovative tongue-and-groove interlocking sashes and concealed locks and hinges positioned on the inside of the door panels as standard for absolute peace of mind.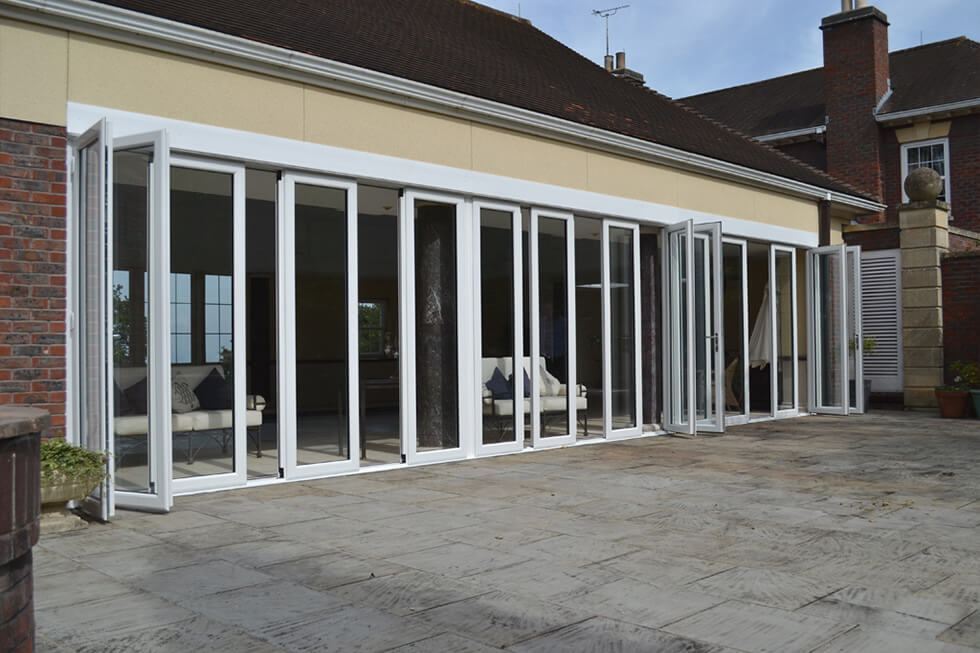 Top hung vs bottom hung slide & pivot doors – what's the difference?
The main difference between these configurations is top hung pivot doors have all the weight at the top, whereas bottom-hung pivot doors have all the weight at the bottom of the frame. Our slide & pivot doors are bottom track supported, as they have a lower centre of gravity making them more stable, smooth, and longer-lasting than weighty top track supported doors.
Ground-breaking slide and pivot glass doors in East London
From pivot doors with illuminating sidelights to awe-inspiring glazed communal entrances, with a range of exciting extras to choose from, including matching hardware and keyless entry, you're always in safe hands with Aim Windows! Visit our showroom at Poplar Business Park, get a free, no-obligation quote, or contact us today for all your East London property improvement needs.
Read our related blog:
4 tips for choosing a new front door for your North East London Home