Here at Aim Windows, we know that choosing the right colour for your bifold doors is incredibly important. Which is why our Smarts aluminium bi-fold doors are superior with each one custom-made to suit your home's aesthetics and complement your existing aluminium windows and aluminium doors with ease.
What colour aluminium bifold doors should I get for my East London home?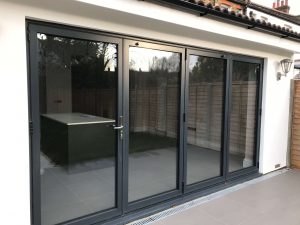 This is a question that a lot of our customers ask us, so we know it will be on your mind too.
Two of our most popular colours for aluminium bifold doors are Anthracite Grey (RAL 7016) and Jet Black (RAL 9005). Both sophisticated, seamless, and stylish colours are guaranteed to offer a timeless appeal to your East London home. Browse our work for inspiration for your new bifold doors.
Both Anthracite Grey and Jet Black create a cutting-edge statement designed to create the "wow-factor" appeal, whilst striking the perfect balance between charming and contemporary style. Something we are confident our customers love!
The benefit of these two classic neutral colours is that they have the flexibility to be colour matched to your aluminium windows for a complete house renovation that flows.
What other colours are available for aluminium bifold doors?
Our aluminium bifold doors are available in a limitless RAL colour palette to suit your home's aesthetics and personality. From life-like woodgrain finishes, metallic, textured through to dual colour frame options.
Imagine having Slate Grey (RAL 7015) aluminium patio bifolds leading onto your garden, it sounds glorious.
Another option is that you could even opt for dual colour frame options. This means you could opt for a contemporary neutral colour on the interior of your home, whilst injecting a more colourful colour on the exterior of your home – making it the envy of your neighbours.
Whatever your colour preference, you can rest assured that we have a colour for you.
Can I choose two colours for my aluminium bifold doors?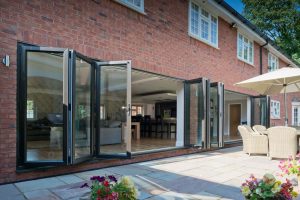 Yes! Something we are proud to offer is the ability to choose two colours for your aluminium bifold doors – one for the interior, and one for the exterior. This means that you could opt for Anthracite Grey on the outside, whilst opting for Pure White (RAL 9010) on the inside.
Choosing two colours for your doors is a great way to make them bespoke to you and your colour preferences. Something we know all our customers like to hear.
Aim Windows offer seven of East London's favourite door styles!
Doors can open a world of possibilities in a single statement. They are the first impression people make of you when they visit your home, so let us help you to make it a good one. Download our aluminium brochure for a closer look at the finer, technical specifics of our door products.
With seven of East London's favourite door styles available in three of the best-performing building materials around, you can rest assured that we will have a door style to suit you. Contact us and an Aim Windows expert will respond to your query as quickly as possible.
Read our related blogs:
4 top tips for choosing a new front door for your North East London home
4 key elements that make the Smarts aluminium bifold doors superior